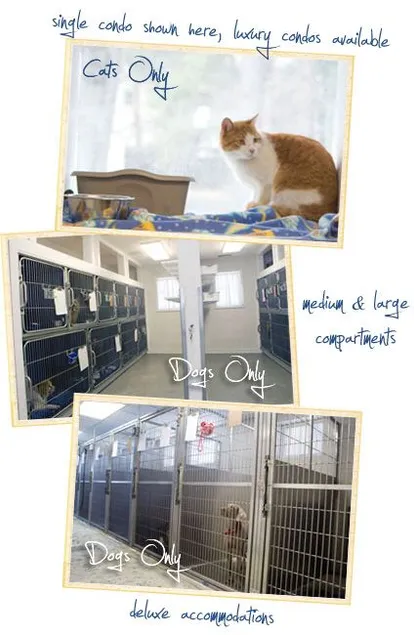 Your pet is always welcome to stay in our spacious boarding facility! Our boarding and hospitalization areas are temperature-controlled and allow your pet to play, relax and recover in absolute comfort.
While staying with us, your pet receives plenty of attention and affection from our caring staff members. Dogs are walked twice a day and extra walks may be added for a small additional charge. Pets receive plenty of play time in our large walking yard and are provided with a comfortable area to rest and relax.
Pet guests receive a combination of canned and dry Wysong™ brand pet food during their stay. If your pet has special dietary needs, we are glad to make accommodations. You also may bring your pet's own food from home. We encourage you to bring your pet's belongings (bed, toys, and treats) as well, as these items will make your pet feel at home.

To book a boarding reservation for your pet(s), please call the office first at 845-876-6008 with the dates you are looking for and the staff will confirm availability. Once your boarding reservation has been booked with a team member, please return to our website and fill out the Boarding Check-In form prior to your planned drop-off date. If you have any questions please feel free to contact us by phone or by e-mail at [email protected]

Click here to complete the BOARDING CHECK-IN FORM online!!**
Canine

Boarding Accommodations

Feline

Boarding Accommodations
Canine Deluxe (4ft x 6ft) - $47.95/night

Canine Large (2½ft x 4ft) - $38.71/night

Canine Medium (2½ft x 2½ft) - $34.38/night

Canine Double Occupancy (1 Deluxe) - $76.34/night
Feline Condo (2ft x 2½ft) - $33.19/night

Feline Luxury Condo (2 Single Condos) - $47.95/night

Feline Double Occupancy (2 Luxury Condos) - $65.90/night
All

dogs

are required to have current Vaccinations for the following:
All

cats

are required to have current Vaccinations for the following:
- Distemper (DHP)
- Parvovirus
- Rabies
- Bordetella (Infectious Tracheobronchitis aka, "Kennel
Cough")
- Canine Influenza (H3N2 & H3N8 strains)

- Feline Distemper/Upper Respiratory (FVRCP)
- Rabies


**If your pet is overdue for any of the required vaccines, we can vaccinate your pet during check-in for an additional fee.