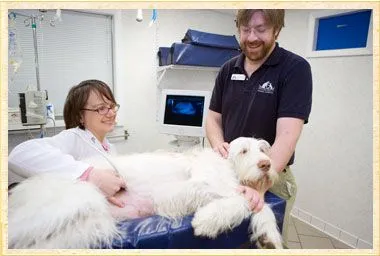 Ultrasound is an advanced tool that is extremely useful in diagnosing your pet's condition. Rhinebeck Animal Hospital has invested in the latest veterinary ultrasound equipment in order to provide faster diagnostics--and treatment--for your pet.
Dr. Relyea and Dr. Weckesser perform abdominal ultrasound examinations and basic cardiac examinations. Ultrasound guided needle biopsies, pregnancy diagnosis, non-invasive examination of abdominal organs. When needed, in-depth cardiac ultrasounds are referred to a veterinary cardiologist.
---
We provide three types of scheduled ultrasound exams:
Pregnancy Exams: should be performed 28 days days after ovulation. If ovulation date is unknown, then the exam should be 30 days from the last breeding.

Re-check Exams: These are for patients who have already had an ultrasound exam performed at Rhinebeck Animal Hospital and and a recheck exam has been recommended. These animals should have no food or water on the day of the exam. We may need to shave your pet to get the best image quality possible.
New Exams: New ultrasound exams are almost always recommended during an appointment. Drop-offs are preferred. Animals should be fasted - no food or water. The pet may need to be shaved to get the best image quality.
**These guidelines apply to abdominal ultrasounds. Cardiac cases are only done on a special case basis.